|
Archive
As you explore the possibilities just opened up to you by the DeviantArt Mobile App, you should all be asking more than just "how can this app entertain me," but instead, how can this tool and the network of arts enthusiasts, fandoms, and creators that it represents, help me do my part to inspire and change the world?
You are now connected, we are now all connected, with DeviantArt wherever you are and whenever you want. Art is still humanity's most powerful, magical and non-suppressible agent of change. Don't believe the hype. You can make a difference. The arts, all of the arts, are one of the only means we have left to really do that.
As advertised, the DeviantArt Mobile App does indeed place the "world's largest art gallery" in your hand. But the DeviantArt Mobile App is so much more than just a daily respite, a visit for a few minutes to an artistic oasis during a break time. It's that of course, but let me be your witness to this app's mind-blowing potentials.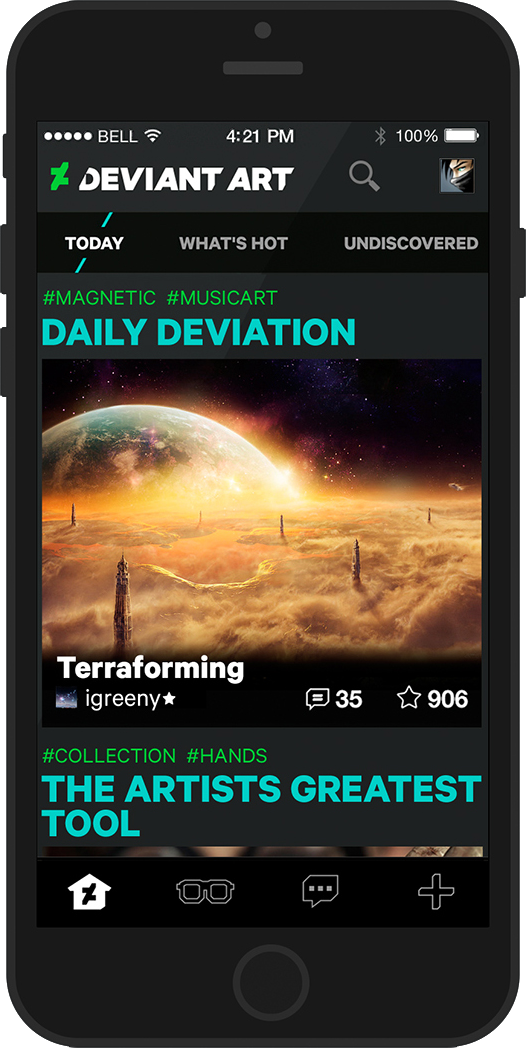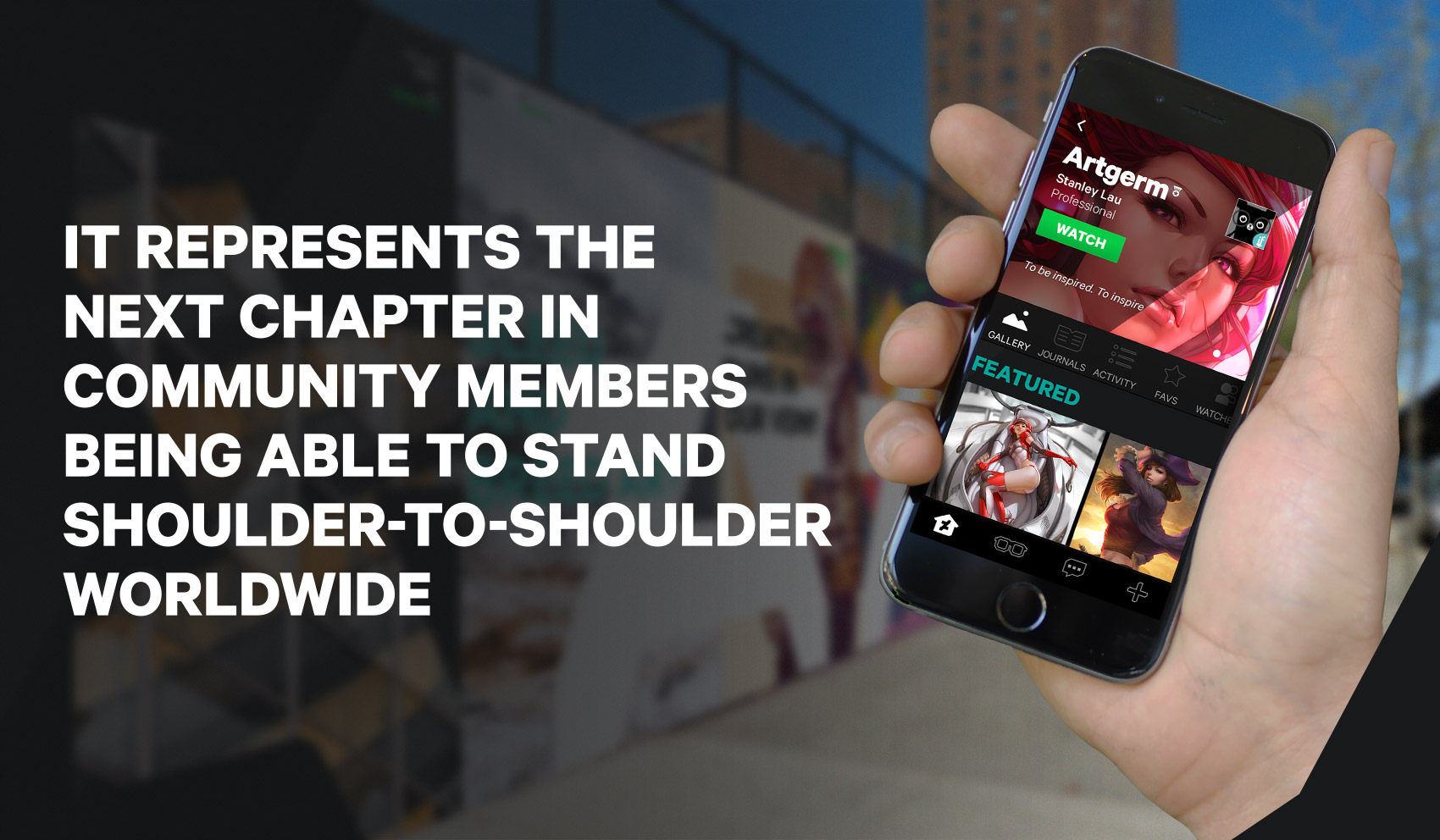 sharing aid, comfort, advice, tutoring, critiques and friendship. Through status updates, comments and, very soon, person to person messaging, what we have now been given in this mobile app is the ability to support any artist on DeviantArt with encouragement as well as the ability to ask a question, talk commissions—or find teams of artists for special projects. For the last couple of months, I'm probably on DeviantArt 10X more since having access to the app everywhere and anywhere I happen to be. I must report to you that the experience of being a part of this community, well, it just got exponentially, cosmically... deeper. Just wait until you download this thing and spend your first day "together" with it.
The ability to be responsive to events in our world in a creative way has been increased a thousand-fold with the power of the mobile app. The potentials for the future being opened up through this mobile app for our deviant storytellers (writers and poets needing artists, artists needing writers) are absolutely mindboggling. The increased reach and immediacy is even more impactful for curators, bloggers, culture fiends, publishers, producers and anyone in need of a creative jump start at any time of day in any place.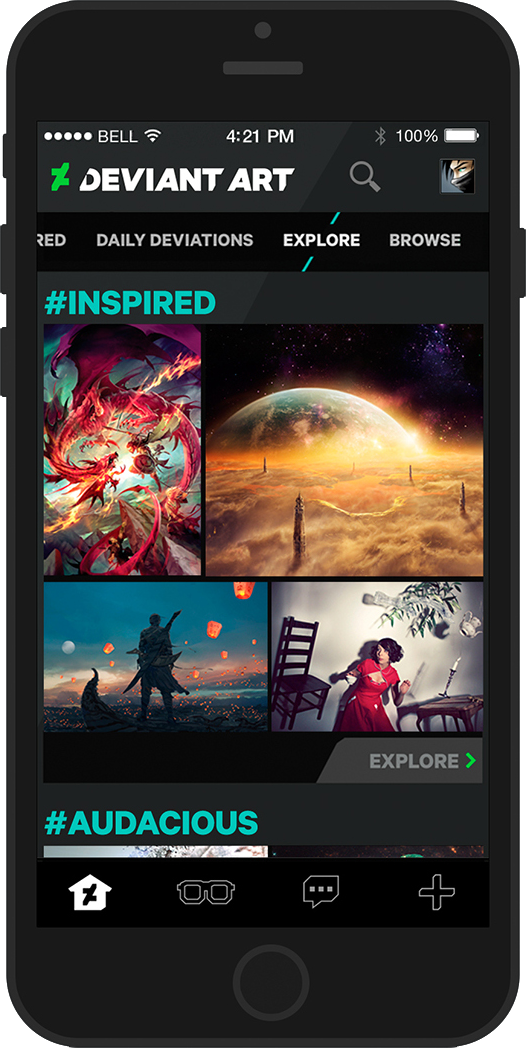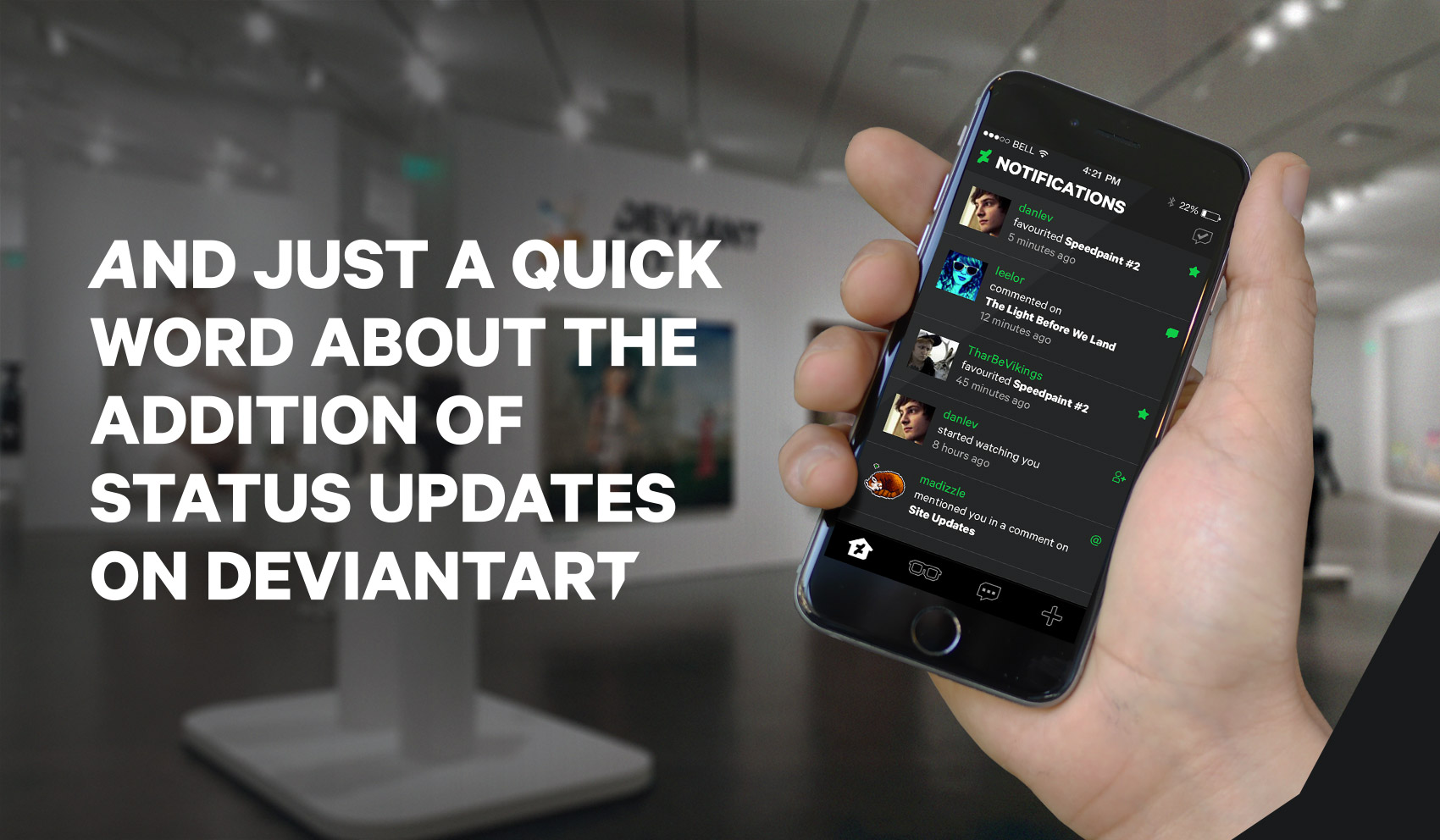 When they were first implemented on the site I think the initial less than enthusiastic reaction of "What? Is this Facebook now and we post pictures of our food and the jacket we just bought?" was justified as a quick impression. Facebook is the defining point of reference online for a "Status Update." But as soon as Status Updates launched on DeviantArt, this community started to change what they were. When I roll through Status Updates every morning on DA, what I find is a quick tip on drawing faces, an invitation to an Artgermination chatroom where you can improve your line art skills, a link to a new writer discovered just the night before, a wrap up to a community-sponsored challenge, a famous quotation paired with relevant pieces of artwork or a link to a newly curated collection that could change the way we think about art in any given category. This is a whole new way in to our ongoing conversation.
Being a part of this community for the better part of eight years, DeviantArt has always meant for me the creation, discussion and understanding of the world through a special art lens where, unlike anywhere else, there remains the ability to "speak" of our needs, concerns, hopes and dreams with great clarity and truth. The Arts have always been our great translator of truth beyond what mere words can express.
---
As the largest and most influential community of culture creators and culture responders in the world, we must cherish and make the best use of our grander visual and textual proposal as we artists and art appreciators continue on the ever-evolving arts journey we have chosen and that connects all our lives.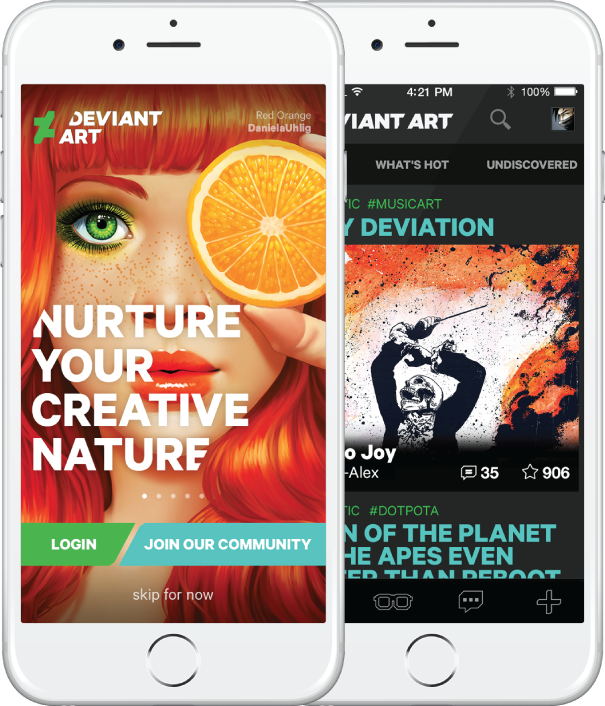 Do you consider yourself to have an "art lens" and can you make art out of anything that flies by in a day: a passing car, a tragic event unfolding in front of you, a simple gesture of thanks or love between people or animals?
Living in public with a declaration of being an artist has just become easier. You now have the weapon. What statements will you hope to make?
Are there places you go to just sit and browse art for inspiration? Do like quiet places or ones filled with people?
Photographs can be art and art can be photographed. What art have you captured and shared on mobile and why? Give us link in the comments below.