Movie Poster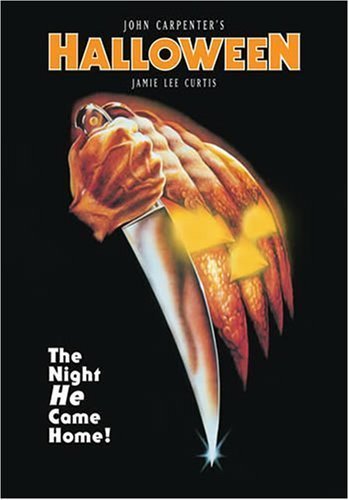 About
It's October and the sacred 31 days of Halloween are upon us-time to get your gore on! The chill is in the air, the leaves are on the ground, and Halloween candy has been out since Labor Day. So while you're waiting in the Starbucks line for an overpriced double pumpkin spice whatever, pass the time with this year's scary movies reviews!
Halloween
(1978)
It was the first, the simplest and the best of all the slasher films of the 80s and 90s that sought to replicate its magic. The casting was perfection. It was Jamie Lee Curtis's first feature film, having just begun her career on TV episodics. She is the small town high school to–die–for girlfriend who is portrayed in the script as not knowing how beautiful and sexy she really is. While the rest of her fellow babysitter friends are hooking up with boyfriends all around the neighborhood on Halloween, she does homework and watches "The Thing From Another World" on TV with her young charges. It is because she is so dutiful in her babysitting and alert to danger threatening her kids that she is initially the only one aware of the mad killer on the loose.
Donald Pleasance does his typical bravura job as the nuthouse doctor, succinctly and believably relating the Michael Myers 411 to the audience. Pleasance was an actor with talent worthy of Shakespeare. That the sleepy neighborhood setting for the mayhem after dusk is so instantly identifiable to so many of us as being where we grew up is a great plus in making the murders all the more resonantly frightening. Once the killings start, there isn't need for much plot. Jamie Lee wrangles her kids from one hiding place to the next like a mother duck and her ducklings, all the while trying to alert her still–living friends and co–ordinate with the cops and the doctor, who finally show up to help her out. Unfortunately, the killer has a thing for her, and finally traps her for what will surely be her death. Luckily, the good doctor practices "tough love," pumping six high caliber bullets into his patient, blowing him through the second floor window and out onto the lawn. But of course the body is gone when the survivors take one last look just before the credits roll.
"Halloween" had a purity of tone and purpose that still makes it a joy to watch today. A tightly budgeted minor horror masterpiece, it achieves its desired number of scream–worthy sequences and flashes of sudden terror like a train running perfectly on schedule. And most importantly, we all have a Jamie Lee in our lives who was our most sensible and levelheaded friend or our perfect girlfriend. She's an All–American "good girl" hero we can really care about. Be sure to watch this one before enduring the other slashers.