Mastering The Magic ofMonster Making
15.7 million fans tuned in for the fourth season finale of the AMC cable channel's hit series The Walking Dead, making it one of the most watched hour-drama broadcasts in cable history.
More than a mere gore fest, critical approval for the show has come by way of nominations from the Writers Guild of America and the Golden Globes. World War Z (2013) presented The Walking Dead on an epic scale, starring no less a Hollywood Mega Star than Brad Pitt, and has grossed over $600 million worldwide. A sequel is planned. The zombie movie has come a long way from Night of the Living Dead, the weekend movie project shot by George Romero and friends in Pittsburgh in 1968 on a $114,000 budget. Romero's zombie concept, little-changed from then to now, was at the time reviled by critics as the worst thing to ever happen to the horror genre, but is today considered the genius zeitgeist forerunner of all that was to follow. Questions of pop psychology and sociology aside, one thing is certain…
But with such a growing demand for zombies, needed in greater and greater numbers to fill screens depicting the various takes on the imminent worldwide zombie apocalypse, how is Hollywood managing to supply the putrid zombie pipeline vomiting out these rotting living-dead brain-eaters? What was once the specialty make-up of a handful of Hollywood horror movie make-up artists has now become by necessity a standardized category of the special effects profession—which is currently being taken up by legions of young monster makers. We here present a visit with one such school in this relatively new world of "physical character development."
Special effects makeup has been a part of movies almost from the inception of popular cinema.
Lon Chaney was the first great master of the physical transformation of an actor to fit an unusual or fantastical role. His silent movie masterpieces of the silent era included The Hunchback of Notre Dame (1923) and The Phantom of the Opera (1925). He created and applied his own creative (and often painful) makeups personally, guarding the secrets of his process like a magician guards his tricks. When Lon died in 1930 the torch was passed to Jack Pierce who was the lead makeup maestro at Universal Studios just as it became the reigning House of Monster Horrors. Pierce created the makeup for Boris Karloff in Frankenstein (1931) and The Mummy (1932) as well as Lon Chaney, Jr.'s The Wolfman (1941).
From the time of Jack Pierce the trade of special effects makeup remained a vocation pursued by individuals inspired by Chaney and Pierce, artists like Rick Baker and Tom Savini, who had to learn their craft largely on their own, there being no formal makeup schools teaching monster making and other special makeups required by horror, fantasy and sci-fi films.
The special effects makeup deficit was finally addressed in 1993...
With the founding in Hollywood of the first incarnation of the Cinema Makeup School (CMS), which has since become recognized as the leader in the genre makeup field, with graduates going on to great achievements critical acclaim at the highest levels. CMS's longtime Director of Education, Leonard Engelman, was elected the first Governor of the Make-up Artists and Hairstylists Branch of the Academy of Motion Picture Arts and Sciences (the governing body for the Oscars®), and continues his work with the school to this day as a special instructor and chairman of the school's honors program.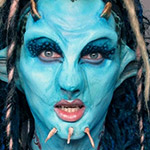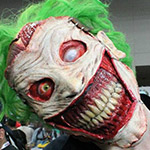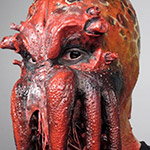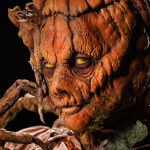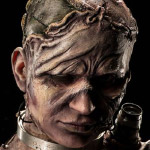 The school's plan was always simple:
Offer shorter, more concentrated classes; keep all instruction up-to-date with the latest professional methods and standards; and attract top working artists to teach at the school. The results have been impressive. Students have gone on to high-profile jobs with effects shops like Amalgamated Dynamics, Inc.; The Character Shop; Legacy Effects; and assisting well-known artists such as Ve Neill; Steve Wang; Kazuhiro Tsuji; and Joel Harlow. Enrollment continues to grow. The plan remains the same: pair eager students with top established talent, and then teach them the latest methods in a concentrated creative environment.
Cinema Makeup School is yet another example of a special creative need being recognized and then "solved" by artists, visionaries, entrepreneurs—a special breed of creative individuals come together in a single cause.
Eat breakfast. Go to school. Make monsters.
Cinema Makeup School Artists
Interviews
Five top students at the Cinema Makeup School (CMS) are deviantART members so we thought they would be the best source for information about the complexity and discipline around SPFX artistry.
Interview with
Midge Ordoñez
(MidgeO)
Has what you've learned at CMS impacted your other creative work? Sculpting etc?
Midge Odoñez:
Yes it has. CMS taught me to create a full character, not just something that may look cool. I learned how emphasizing certain parts of the anatomy will change the emotion on a sculpt. I also think more about detail and the smaller shapes on the face and body when sculpting.
Has training in special effects makeup enhanced your skills in traditional beauty makeup? Has being a "double threat" resulted in better employment opportunities?
Midge Odoñez:
I came to CMS with a few years doing beauty makeup under my belt, and learning about special effects has made me think more creatively about my beauty makeup. Being a "double threat" has definitely resulted in better employment opportunities, as more employers would rather hire one person who knows how to do both rather than two separate people. It's also good to know in case my creature needs any sort of beauty enhancement.
Will you continue in the makeup field or do you aspire to mastering any of the other aspects of movie production?
Midge Odoñez:
Working in the makeup industry has been a dream of mine for years, one that I will continue to strive for, but being at CMS has opened me to exploring other facets as well. I want to get into making dolls and collectables, and after taking the Zbrush class CMS offers, I want to do more conceptual work as well.
Interview with
Jordan Morris
(key-0)
What is the status of "Harbinger Down", the Practical Creatures Effects Kickstarter project?
Do you think special effects makeup produces a better result than CGI every time? Is CGI too often automatically the first choice?
Jordan Morris:
I'm on both sides of that conundrum. Honestly, I feel the mix of the two mediums have given the best results in recent days. Here I'll bring up the Pale Man and the Faun from Pan's Labryinth. It's not just makeup FX! Let's not forget miniatures, models and other practical effects as well! (Go watch some behind the scenes for Nolan's films... you'll see!)
As far as CGI as a first choice... it's hard to judge. There's many reasons for choosing CGI over practical for the set. Mostly monetarily reasons which falls onto studio pressure. However, I honestly believe that if there's something tangible right there on set you will get a better performance from your actors, your directors, your cinematographers, everyone.
Has training in makeup at CMS enhanced your drawing skills in any way?
Jordan Morris:
In a strange way, yes. Especially with sculpting appliances and maquettes. Working in 3 dimensions and making sure that a form fits and moves on a face... it can change the way you think about how anatomy works, not just how it's rendered. I've also found myself becoming more painterly now that I think more in shapes and planes. Better understanding how light hits a form. I still need to figure out environments though.
What do you see as the next big advancement in the field over the next 10 years?
Jordan Morris:
I think the only step in the 'future' I've ever really pondered would be something like 3D printed appliances. I haven't a clue how that would work but it would be pretty awesome!
How has makeup training at CMS enhanced your costuming skills?
Melissa Jimenez:
Being a trained makeup artist has opened up a lot more possibilities when it comes to costuming. I've always wanted to work as a special effects makeup artist but being raised and born in Colombia never really allowed me that possibility, so costuming, cosplaying and character creation in general was my attempt at getting close to this craft.
Now with the combined knowledge of costuming and makeup I've been able to develop characters in a more complete way, since I get to be involved in more areas of the creation process and I've even been able to get more work because of my specific skill set.
Would you recommend CMS to your fellow Cosplayers?
Melissa Jimenez:
If you're interested in makeup, absolutely. Not everyone that cosplays wants to get involved in makeup, since they're more interested in the costuming side of it. But, for me, cosplaying and doing zombie makeups on myself and on friends for Halloween was my attempt at getting closer to my dream career—a career which at several points in my life I didn't even believe I would be able to pursue. Luckily enough, costuming and cosplaying lead me into a natural transition over to makeup.
I had to work really hard to be able to move from Colombia to LA to pursue my dream, and I still have to work very hard to be able to do makeup for a living. It's a very satisfying line of work and, at the end of the day, instead of working at an office I get to make monsters, play with clay and paints, work in movies and make the creatures that live in my imagination come to life; what could be better than that?
Does knowing you can produce superior effects makeup free you creatively when you are planning a costumed character?
Melissa Jimenez:
Definitely. For me creating a character not only involves thinking of the specific look and features that it might have, but also figuring out how that character would choose to dress itself or what attire would make sense in its everyday life. There's a very good reason why the makeup and wardrobe department always work together in movies. Attempting to create a complete realistic being will always require a cohesive overall look; so personally, having knowledge in both departments allows me a lot of creative freedom.
Has what you have learned at CMS help you get modeling jobs?
Melissa Jimenez:
Of course, thanks to what I learned I model all the time, I model figurines out of clay, monster busts, creatures…
All jokes aside, modeling for me was never a set career; I always enjoyed the creative side of it, which for me involved doing makeup, creating outfits, props, set design, etc. It was fun and thanks to it I met a lot of great people but I never saw myself doing it full time.
Nowadays I'm lucky enough to be able to work as a professional makeup artist which between being on set, working at special effects labs and developing personal projects, allows me very little time for anything else.
Lee Joyner's
DEVIANTS
To Watch
Have you had the experience of having a particularly frightening horror movie being ruined when the monster finally revealed isn't so scary? Conversely, do you think horror movie makers today rely too much on the extremely effective make-ups and put too little into making the actual stories scary?
What was the first memorable halloween mask or make-up your ever wore? Did you like the sensation of being a scary monster?
What's the best horror or fantasy make-up you've ever seen in a movie?
Which movie or TV show has the best (most convincingly rotting, etc.) zombies?