Movie Poster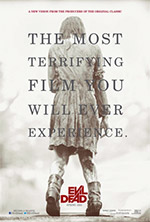 About
It's October and the sacred 31 days of Halloween are upon us-time to get your gore on! The chill is in the air, the leaves are on the ground, and Halloween candy has been out since Labor Day. So while you're waiting in the Starbucks line for an overpriced double pumpkin spice whatever, pass the time with this year's scary movies reviews!
Evil Dead
(2013)
"The Most Terrifying Film You Will Ever Experience?"
Oh Sam, Sam Sam… you could maybe get away with that tagline for the original or even '87's Evil Dead II but certainly not this tragic reboot. Basically the same plotline- group of friends staying at family cabin, read from forbidden book, girl gets raped by demonic trees and now possessed, proceeds to take out all of her friends in gruesome ways. But instead of spring break, the cabin is now for heroin rehab (of course… because that's a 'modern twis' or something?)
Instead of leaving demon girl for dead, we get the first exorcism by defibrillator. And instead of the original's campy goodness, we get a stripped down, hollow shell filled up with predictable jump scares and corny one-liners, which I guess the filmmakers thought would be enough to hold an easily entertained teen demographic. Except every teen I saw in the theater was shaking their heads at the end as much as I was, sad and disappointed that we had spent $12 on yet another cheap, unnecessary remake.
---
This is the film that Sam Raimi wanted the original Evil Dead to be. The lack of camp is because he wanted it to be genuinely horrifying. I actually really enjoyed this one because of the lack of camp and the changes in the story. It makes it its own movie instead of a total rehash of the original—and any film that keeps horror alive can't be too bad.