Movie Poster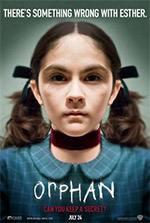 About
It's October and the sacred 31 days of Halloween are upon us-time to get your gore on! The chill is in the air, the leaves are on the ground, and Halloween candy has been out since Labor Day. So while you're waiting in the Starbucks line for an overpriced double pumpkin spice whatever, pass the time with this year's scary movies reviews!
The Orphan
(2009)
Lolita (1962) meets The Bad Seed (1956) in this stylish thriller about a family who adopt a mysterious Russian orphan with an evil agenda. Vera Famiga does a great job as the terrorized mom but Isabelle Fuhrman's super creepy turn in the title role steals the show, even if she sounds like she's plotting to kill "Moose & Squirrel."
Tune in for the freaky twist at the end that could probably rival Sleepaway Camp (1983)!