Movie Poster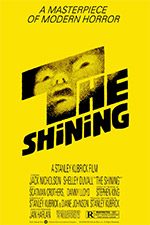 About
It's October and the sacred 31 days of Halloween are upon us-time to get your gore on! The chill is in the air, the leaves are on the ground, and Halloween candy has been out since Labor Day. So while you're waiting in the Starbucks line for an overpriced double pumpkin spice whatever, pass the time with this year's scary movies reviews!
The Shining
(1980)
Here's Johnny! Seriously, is there anyone left on the planet who hasn't seen this one? Winter innkeeper of isolated hotel terrorizes family as he slowly descends into madness. Is the horror a product of the hotel's evil spirits or is the family simply lost in the labyrinth of Jack's diseased mind? With all due respect to Stephen King, this was the perfect interpretation of the book in my opinion, even though it's not a 1:1 adaptation. Creepy musical score sends chills & I still can't watch this one with the lights off!
---
The reputation of this movie is well earned, especially with Jack Nicholson playing one of the most famous iconic figures in horror movie history. Even if you've never watched the film (which I find unlikely) who doesn't know the line, "Here's Johnny!"? Kubrick of course did a fabulous job with the directing of this, shunning critics negative feedback against one point perspective and using it to enhance the tension in many scenes. It is a cult classic that sadly author Stephen King was not a huge fan of. But it is certainly one that I will revisit over and over again.
---
Has to be one of my all time favorite movies! I mean come on, Jack Nicholson kills the stage with his impressive chaotic spiral down to sheer insanity! He was the perfect actor for this role and leads you on a wild ride throughout the entire movie! At each turn the story thickens with new bizarre events unfolding from the dead who still haunt the halls (or his mind) to him becoming an axe murder at the end, hunting down his family who are caught in this whirlwind of this manic killer they once called Husband and father!